We are pleased to announce the immediate availability of Backlight 2. Almost two years in the making, Backlight 2 is a major update to The Turning Gate's flagship website creation and gallery management system, and available now on our shop page.
Backlight 2 is a malleable website creation and photo publishing platform for photographers, built to make easy work of managing image galleries online. With Backlight, have your website and image galleries up-and-running in a matter of minutes. Then use Backlight's built-in designer to customize the content, look and feel of your site. Install add-ons to maximize the utility of your website, including client feedback or shopping cart features, alternate gallery styles, and more.
Upgrading from Backlight
Discounted upgrades are available for existing Backlight customers. All discounts have been dispatched via email, and should be waiting in your inbox. If you cannot locate your discounts, please check your spam folder, and/or search your index for messages arriving from "The Turning Gate" at email address noreply@sendowl.com. As a last resort, you may contact me directly for assistance.
See documentation for upgrading an existing Backlight website to Backlight 2. The process is fairly painless, with existing websites being fully upgradable from Backlight 1 to Backlight 2, with no need to redesign templates, etc.
New versions are available for Backlight 2 and all add-ons, including Cart, Client Response, Galleria, Theater and WP Theme. The Pages Add-on has been consolidated fully into Backlight 2, and is no longer available as a separate add-on. Backlight 1.x add-ons are not compatible with Backlight 2, and must be upgraded.
The Galleria and Theater Add-ons are available to all existing customers at no additional cost, regardless of original purchase date.
New in Backlight 2
Backlight 2 includes a wealth of new features and improvements. Here are the headline items.
Automated Install and Update Process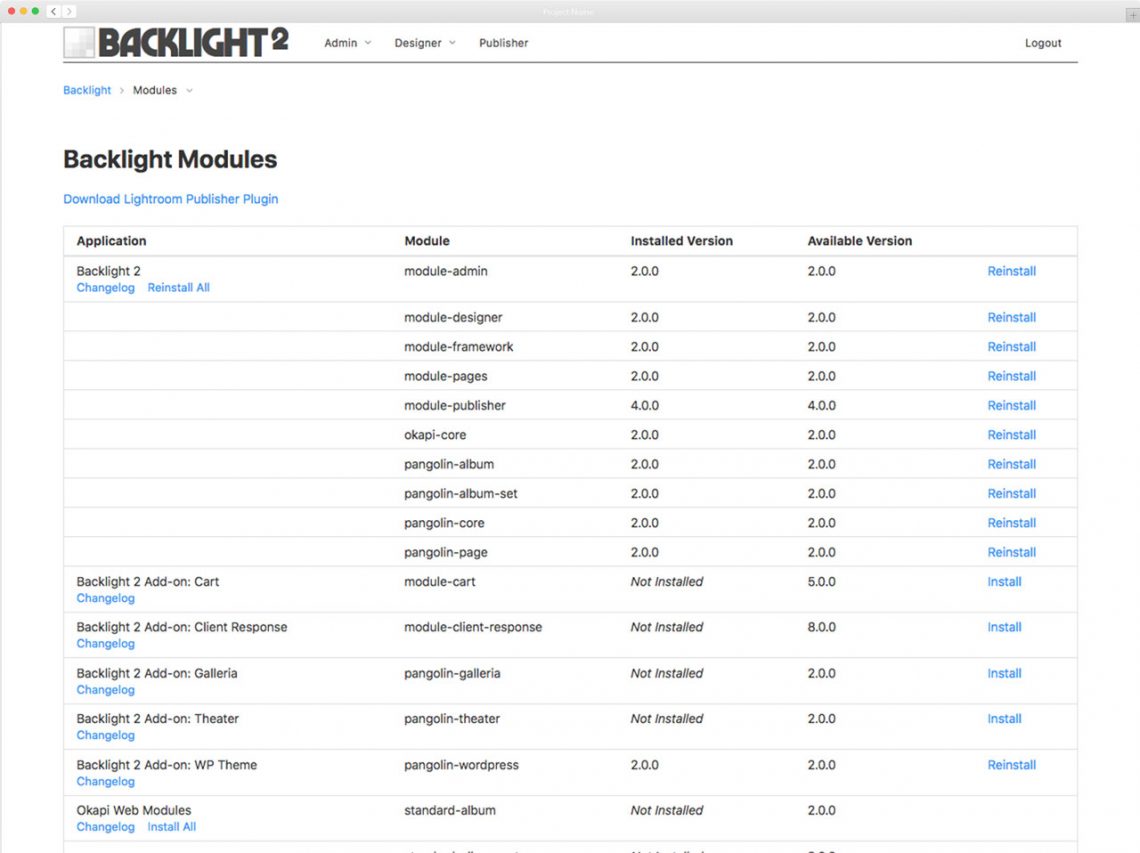 Following first installation of Backlight 2, subsequently installing add-ons and updates occurs entirely within Backlight's admin. No downloads! No FTP! Easily compare your current install to available versions, then download new updates and add-on purchases with the press of a button.
Web-based Publisher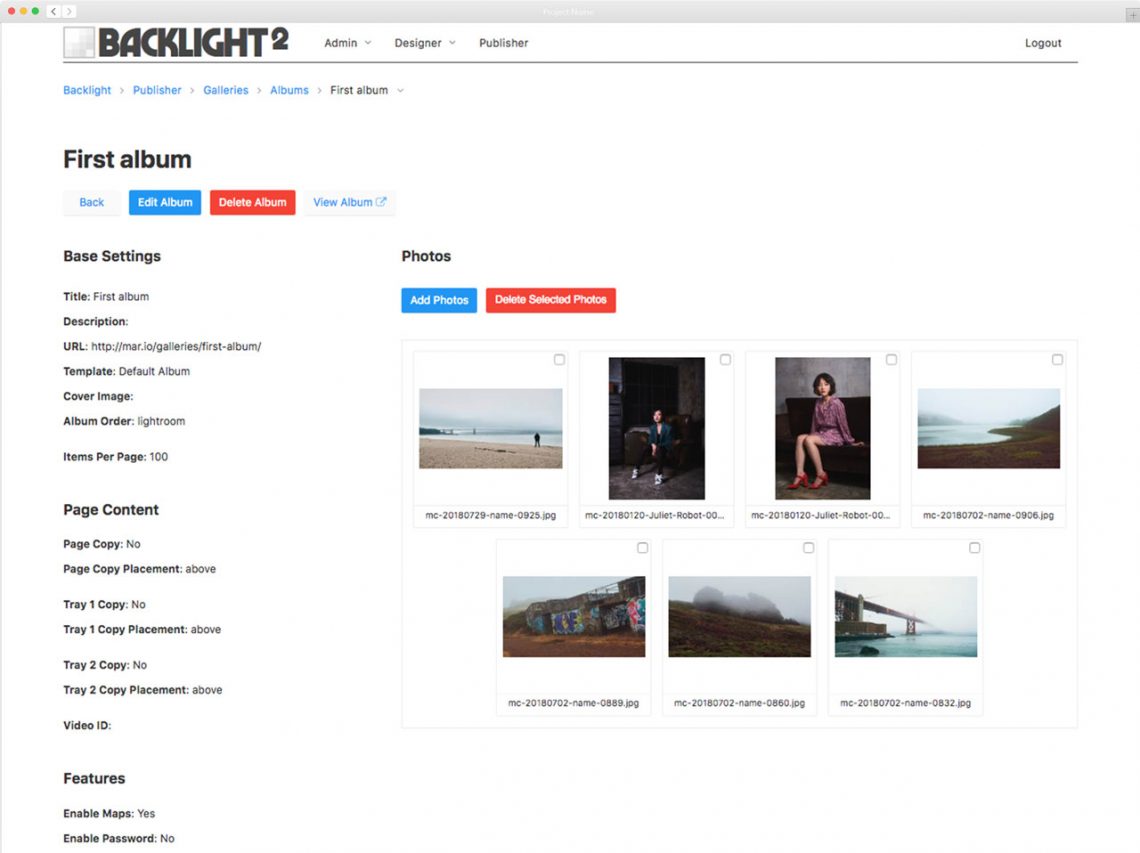 Lightroom is now optional! Create and manage albums and album sets, and upload photos within Backlight, independent of your choice of desktop software.
For those keeping on with Lightroom CC Classic, compatibility with Lightroom's Publish Services is being fully maintained.
Presently, the web-based Publisher supports a subset of metadata tokens that we will shortly be adding to.
Centralized Client Management
Client access control is no longer restricted to the Client Response add-on, and is now a part of Backlight's core. Designate any typeof gallery as private, then allow access by assigning it to specific clients.
Multi-language Support
Write content and configure interface profiles for languages you wish to support, then allow users to change the site language at any time using a drop-down menu.
Contact Inboxing
Form submissions are now saved to Backlight's database, and viewable within Backlight admin. Rest assured that if an email fails to arrive or lands in spam, Backlight has your back.
Support for GDPR/Privacy
Enable GDPR message and checkbox, acceptance of cookies notice, option to disable the saving of Contact Form Submissions.
Improved Backlight Admin Security
We've added support for Google Authenticator two-factor authentication, password reset, and stronger password encryption.
Improved class-based PHPlugins
Reimplemented PHPlugins allow for greater extensibility than ever before. Functions now have access to Albums and Photos, and associated information.
Due to changes, however, existing PHPlugins functions will need to be reformatted to match the new system. Those users upgrading existing sites from Backlight to Backlight 2, should disable PHPlugins in the meantime.
New and Improved Admin
The admin area has received a visual and organizational overhaul. Related settings have been consolidated and relocated, and it should be easier overall to locate the things you need at any given time.
---
We're standing by …
Ben and I are extremely proud of this release, and see it as a major step forward for Backlight. We hope you will agree!
For at least the next few hours, relative to the time of this post going live, we will be hanging out in the forum to address whatever questions, concerns or issues you may have.