[raw]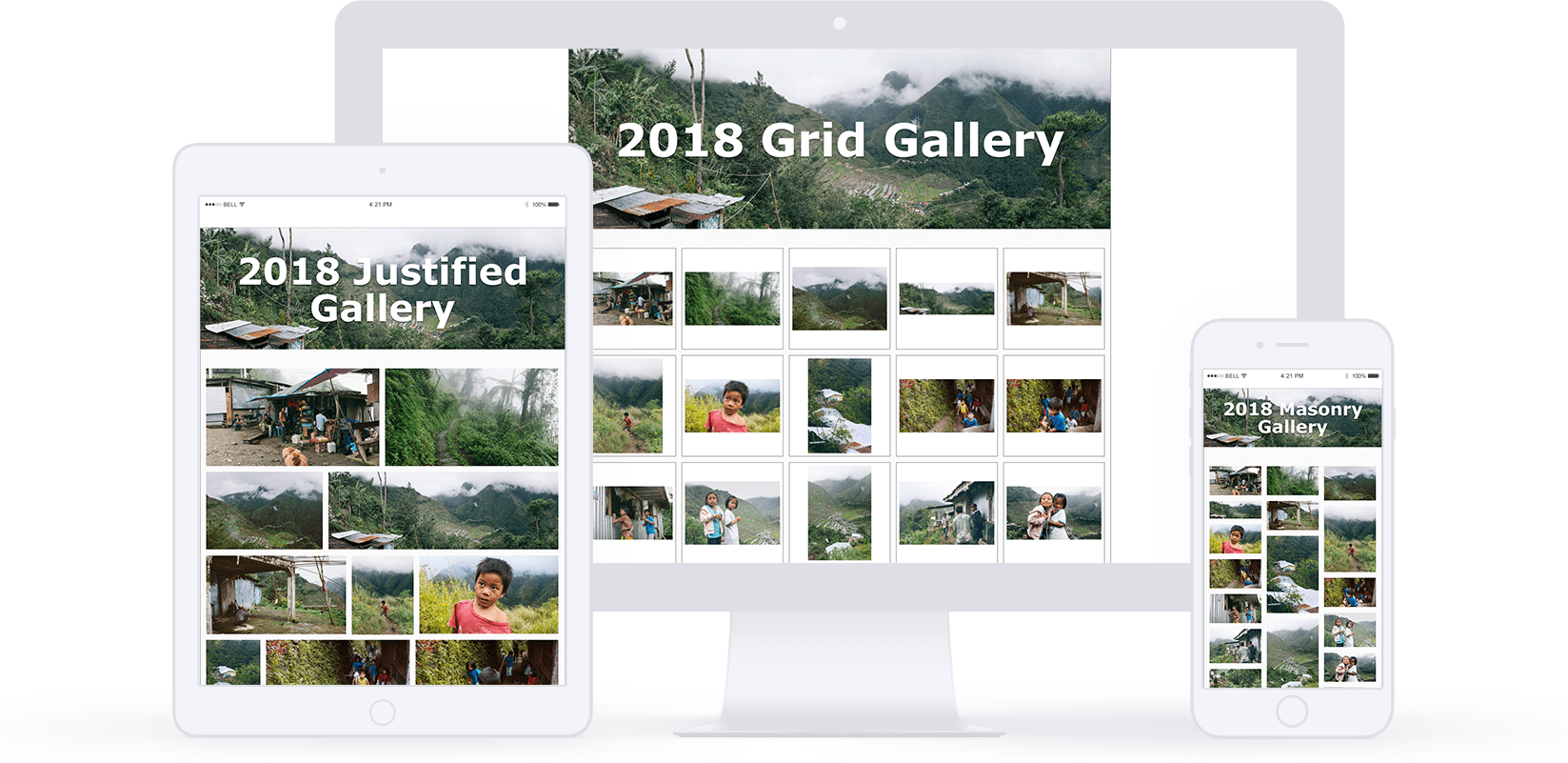 The 2018 LR Plugins Collection includes three gallery plugins for Lightroom's Web module, the 2018 Grid, Justified and Masonry galleries.
The plugins create standalone, static image galleries, viewable online or off. Export one-off galleries for your website, or put them on a thumbdrive to give your client.
Fully responsive gallery, works on desktop, laptop, tablet and mobile devices.
Gallery descriptions support Markdown formatting of text.
The gallery banner supports a hero image, and automatically scales the title's size to match the display.
Displays images in a touch-friendly slideshow.
---
2018 LR Plugins Collection
2018 Plugins Bundle
With the 2018 Plugins Bundle, get all three gallery plugins at a significantly reduced price!
---
---
About the 2018 LR Plugins Collection
The 2018 LR Plugins Collection is built from ten+ years of experience creating Web plugins for Lightroom, and more than 15 years in web-design.
Our galleries are built of HTML5, CSS3 and jQuery. They are responsive, designed to be viewed in modern desktop, tablet and mobile browsers. Host your website on your own space, under your own name; publish content using FTP.
Requirements
System

Mac or Windows PC, running Lightroom 3/4/5/6/CC2015.
An FTP client, if planning to post galleries online.
Our plugins are not standalone software, and require Lightroom to run. Content should be published to the Web via FTP, requiring a domain name and standard web hosting. Hosted website services such as those provided by LiveBooks, Squarespace, Wix, etc. do not qualify as standard web hosting and are incompatible with output from TTG plugins. For quality, affordable, TTG certified hosting, we recommend Bluehost or HostGator.
Support
The Turning Gate offers friendly, comprehensive product support. We are dedicated to seeing every customer successfully launch their website. For support details, visit our website's support page.
All sales are final, no refunds.
Only available as a digital download.
[/raw]